Often times, contractors are too busy to truly network with other industry professionals. Being busy is a great problem to have, but not being able to network creates a new problem: not growing. If you're not growing you're not going anywhere.
The best part of business networking is being able to speak with the same minds that share your love for the same industry. It's a camaraderie nobody else can experience.
We recently held our Owners Summit meeting in St. Louis where contractors of the most successful companies around gathered to share their insight and learn how they could improve and grow areas of their own business.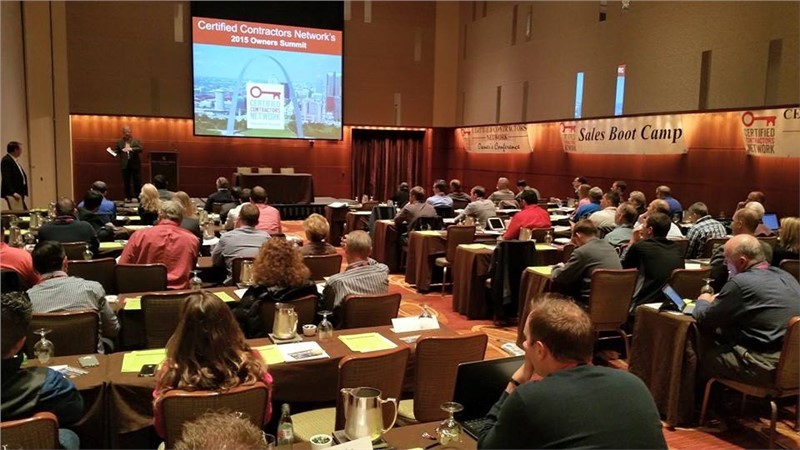 6 Key Takeaways
Every year brings new faces, ideas, and learning experiences. Why is being a member of CCN so important? Here are some reflections from our owners at this year's summit and why they thought business networking was so important.
Secrets – you get to share what works for your business and what doesn't. By giving a few of your "secrets" you develop trust amongst your peers.
Streamlining processes – owners shared that implementing different processes were paramount to their success. These processes include the sales process, HR processes, and insurance processes.
Camaraderie – it's like a true family. Our members are well-respected and respect what other owners have to share.
Finding areas of weakness – some owners knew they had a problem, but didn't know how to approach it before other speakers presented it to them.
Next level – some owners have plateaued in their business. New ideas help them get to the next level they've been searching for.
Peaks & Valleys – every contractor has them, especially in revenue. Learning how to deal with them keeps your business thriving, not just surviving.
We Hope to See You Next Time
If you're an owner of a contracting business, then we're looking at you! Being a member of CCN has amazing benefits and we don't want you to miss out on all the secrets and success stories everyone has to share.
Is your story next? Join us at the next Certified Contractors Network Owners Summit and find out if our version of business networking is right for you!
Click Here To Apply To Be Our Guest!
Building the best,
Scott