If you've been reading this blog, you might remember an article I wrote for CCN in December called "3 New Harsh Realities of Google Search for Remodelers."
In that post, I talked about a few different shake-ups in the search engine results pages (SERPs):
Google's local listing "7-pack" turning into a "3-pack"
The increasing importance of Google reviews for contractors
Google's new "pay-to-play" home service ads
Those home service ads rolled out in July of 2015, and they were confined to the California Bay Area for testing purposes.
While they still haven't rolled out nationwide, they've changed again.
Here's what you need to know.
Sending Requests Through Google
First, a refresher on these home service ads and who's qualified to buy them.
Don't be surprised if roofers or remodelers are next, but as of right now, these ads only extend to a few niches: locksmiths, plumbers, and possibly others– I even saw a result for an HVAC professional recently. Google also mentions maid and cleaning services specifically, but I'll get to that in a bit.
To be qualified for these home service ads, you need to be:
Licensed
Bonded
Verified by Google
Google doesn't want to open these ads to just any contractor. They want to make sure their brand is associated with trustworthy businesses.
As of this writing, contractors are paying per lead. You can do your best to target your ideal customer with your own website and social media, but now homeowners can contact home service professionals through the SERPs themselves.
It seems to function similar to HomeAdvisor, but I'll talk a bit more about that in the next section.
Last year, this is what a homeowner would see if they searched for 'San Francisco locksmith':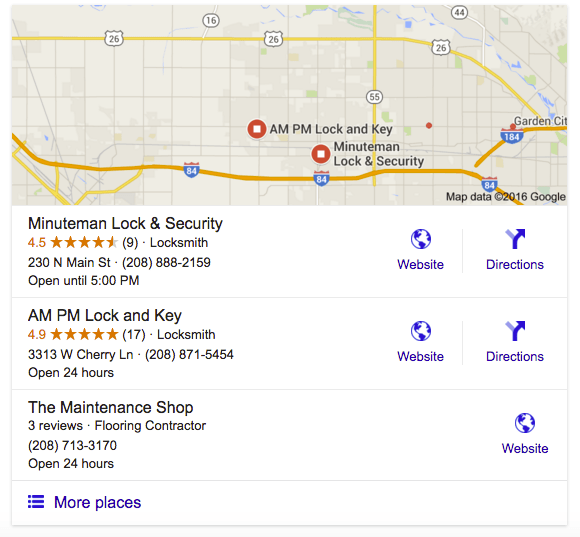 That button allows homeowners to contact multiple companies through Google. They don't need to call you or visit your website.
When they click 'send request,' they'll see this:
Google home service ads
They can select up to three contractors to contact all at once, and then the bidding war commences.
But what happens on your side?
What You See
Housekeeping service
I wasn't able to contact any of the Bay Area plumbers or locksmiths involved in this ad program. If you're one of them, I'd love to hear from you. Feel free to contact me on Twitter, and I'll update this post.
For now, I'll go by what Google is saying. You can view their home service ads enrollment page here.
In its description, Google mentions these home service ads are good for:
local handymen
house cleaners
Locksmiths
Plumbers
"other professionals in front of people who are looking to find and book quickly"
What About Replacement Contractors?
I don't think it's a stretch to say they plan to roll out these ads for remodelers and other replacement contractors, as well. Even roofing companies who do repair jobs are likely to be included.
All you have to do is "tell Google what you do" and "get qualified," which refers to being licensed and bonded.
On their home service ads page, Google tells the story of Amy, a woman who needs her home cleaned, and a house cleaning service called Hero Maids.
According to Google, here's how it goes:
"Amy reviews Hero Maids' business profile and feels confident about contacting them. In less than a minute, she's sent a request. Hero Maids gets the message on the home service ads app and responds immediately.
A few hours later, they have completed the job and Amy leaves Hero Maids a glowing review. Their stellar rating just got even better."
So, you'll need an app to get these requests. I imagine they can also go to your text inbox, your voicemail, or your email. I'm not worried about Google contacting you. You should be able to set up your preferred method of contact easily enough.
If Google can make self-driving cars, they'll probably do just fine at sending you a text message or updating an app.
To me, this seems similar to what HomeAdvisor does. The homeowner finds a professional, inputs details about the job they need, and then receives a call from a contractor within a few minutes.
That being said, homeowners can still find your phone number, website, and reviews right from the SERPs. Not everyone wants to fill out a form, especially if they're performing a search on a mobile device.
It's well-trodden territory, but this time, it's in Google's hands.
Reviews Make the Difference
Notice how Google said "she feels confident about contacting them" and "Amy leaves Hero Maids a glowing review. Their stellar rating just got even better."
Clearly, reviews are a focus for them.
And they should be a focus for you, too.
Homeowners can see your Google reviews right from the search engine results. They can see your overall star rating, and how many reviews you have. It's easy for them to peruse your reviews at their leisure.
It's a big part of their research process.
You already know Google is focusing on reviews for contractors, but you might not know how much.
Last winter, I conducted my own research on Google reviews and search engine rankings. I analyzed over 20,000 local listings, including listings for remodelers and roofers.
Google review statistics
This is what I found:
The first three Google local results have an average of 472% more reviews than listings 4-6
The top three Google local results have more reviews, nearly twice as often as listings 4-6
63% of the time, Google's top three local listings contain the listing with the most reviews
A listing in the top three local Google results has an average of 7.62 reviews, compared to the 1.61 reviews in the next three listings
Google expects your reviews to affect lead generation, and they're right.
Your customers see your reviews right from their search results, which will impact whether they call you, visit your website, or fill out the home service ads form.
Your reviews also seem to affect your search engine rankings. This is a big deal if you're not buying home service ads, as reviews might be the tipping point that gets you included in the local three pack (local listings) at the top of the results:
Google local results
As compared to the organic listings at the bottom of the page:
Google local results
Slow Rollout
There's still time to compete in the local Google listings without buying home service ads.
Google hasn't rolled these out nationwide or even rolled them out to the house cleaning niche they mention on their own home service ads page.
If I search for home service ads in Meridian, ID, where my business is based, I see:
meridian locksmith result
And this is what a normal search shows me:
Google local results
So, why is the rollout so slow?
From Blumenthals.com:
"Given the very slow rollout, limited geography and Google's many canceled attempts at lead gen products like insurance quotes and car leads one has to wonder why this has not rolled out any faster. Is the product going to roll out and they are just working through the details? Or is it like the two mentioned above, just another test that will be axed sooner rather than later?"
I'm willing to bet it won't be axed, but I'm also willing to bet it requires further testing. Google is actually promoting these home service ads via Adwords.
They want them to succeed.
Verifying contractors obviously takes some manpower on Google's side, and they have to make sure their users like these home service ads.
As for you, the contractor?
They probably don't care if you like them or not.
The rollout has been slower than most search marketing experts predicted, but it's still rolling on. You can visit the home service ads page and take a look around. See if you're interested.
Eventually, you'll have to pay to play in the new SERPs. Until then, focus on your Google reviews. They'll come in handy once home service ads hit your area, and they'll help you in the local search results until then.
Thanks for reading,
Brodie